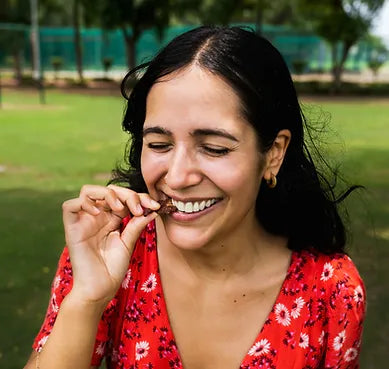 In 1550 the Incas learnt that by drying and salting meat they could prevent meat from spoiling and store it for months at a time. Using the same simple techniques, along with the finest ingredients and leanest cuts of meat, we make chewy (jerky) and crispy (chips) meat snacks in five mouth-watering flavours.

GLUTEN FREE

HIGH PROTEIN

LOW CAL

ALL NATURAL
BE A LEAN MEAN MACHINE
There's no other snack that gives you as much protein for as few calories making Doki ideal for both people trying to
lose weight
and people trying to
gain muscle
. For context, our jerky gives you
3x
more protein than the leanest protein bars.

Arnav Bakshi, Corporate Raider

Hitting my daily protein goals has always felt like a chore — not anymore! My gains at the gym have skyrocketed ever since I discovered Tom and Jerky (well now Doki) because snacking on it is just so much tastier than protein bars and it doesn't make my tummy feel weird like when I'm loading up on whey. 

Iteeva Pande, Student

MEAT SNACKS!!! OMG these are so good and such a game changer. Can't believe I've wasted 20 years snacking on ghaas phoos. Will be ordering from you guys daily to make up for those lost years! 

Vedant Chandra, Artist (Alboe)

I've been fanatical about jerky since getting hooked on it whilst studying in the US and I've been importing it to India ever since I moved back. Discovering Doki is gonna do wonders for my bank account because your jerky is as good, if not better, than anything I've had abroad so I need never import jerky again.